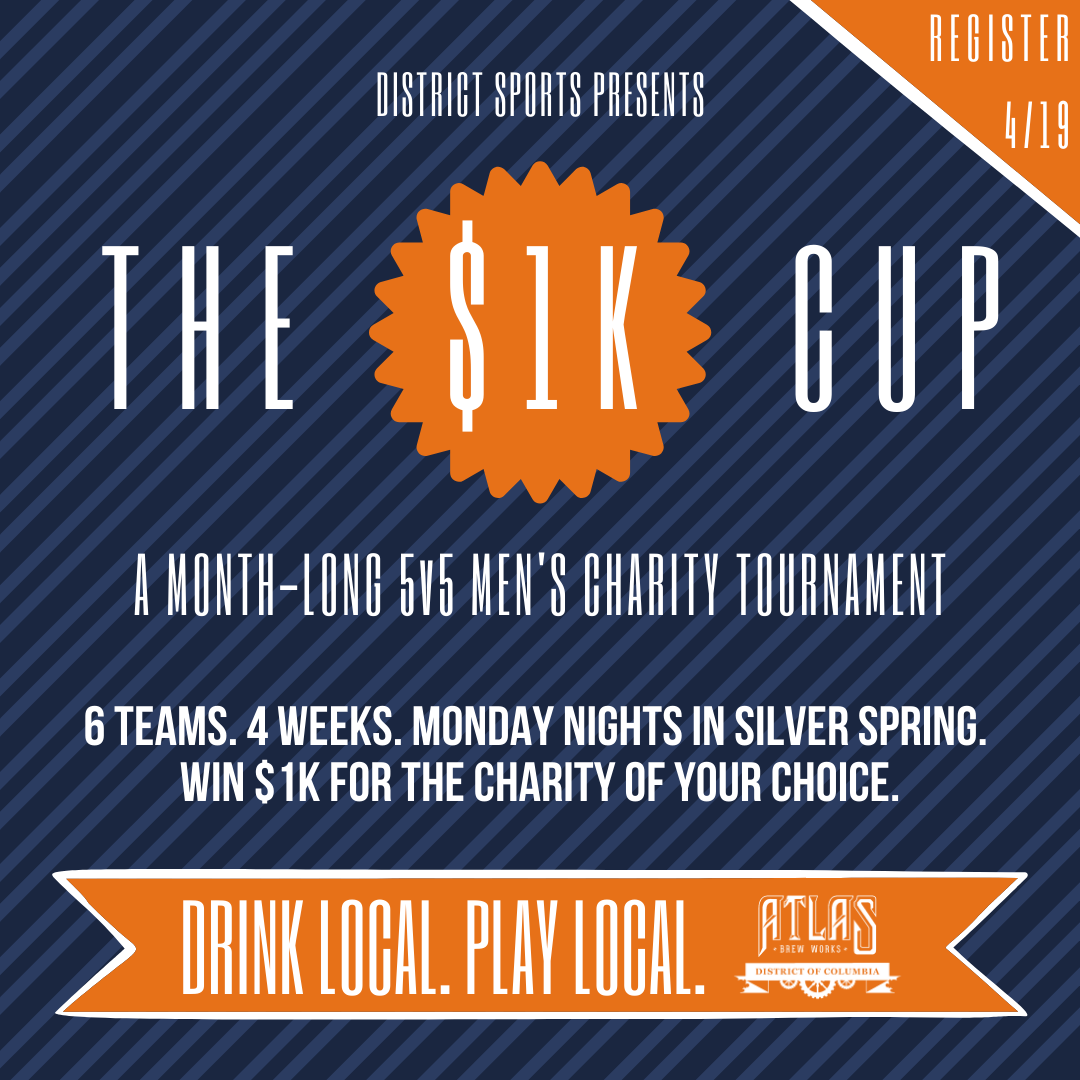 The $1K Cup is a month-long charity tournament, played over the course of four weeks at the Barrie School in Silver Spring.
At the end of the month, one team will win the honor of having $1000 donated to the charity of their choice, in addition to a prize pack courtesy of Atlas Brew Works Ivy City Brewery and Tap Room.
Registration for this program will open at 12:00 AM on Monday, 4/19/21.

Basic Tournament Details
Cost and Capacity: $500.00 per team. Space for 6 teams.
Tournament Length and Structure: 4 weeks of games. 2 games per night. Top 2 teams after round-robin play will advance to the Championship.
Format: 5v5 Men's ( Players of all genders are welcome in Men's programs, but there is no gender based requirement on the field.)
Game Length and Scheduling: 30 minute games. Each team will play 2 games each night. All games will take place between 7:00 PM and 8:15 PM.
Game Location: Barrie School

Is this tournament the right level of play for you?
The $1K Cup is intended for advanced players. Teams in this tournament are expected to have high-level soccer skills.
Free Agents
Unfortunately, there is currently no space for Free Agents in this tournament.
Important Information to Know About Spring 2020 Credits
Due to the limited scale of our Spring 2021 programming, we will not be able to honor credits from the Spring 2020 season in this program. If you have questions regarding this policy for Spring 2021 programs at Barrie School, or the use of credits in general, please email info@districtsports.com.
COVID-19 Related Details
Masks may be required during gameplay, dependent upon Montgomery County guidelines for soccer. Full COVID-19 protocols can be viewed here.